ARCHIMEDE FAMILY
A110 Archimede™ Light - Low Volume Sequential Tinting
A110 Archimede™ Light – Sequential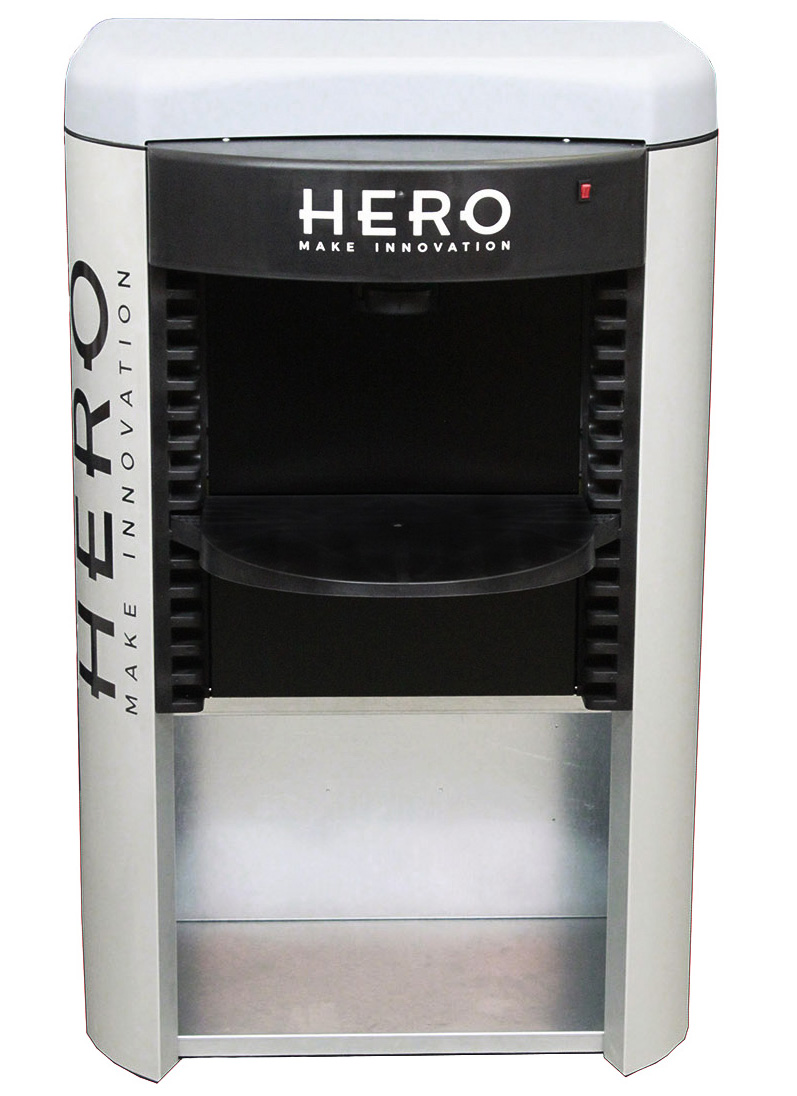 A110 Archimede™ Light – Low Volume Sequential Colorant Dispenser
The A110 Archimede™ incorporates HERO's patented Progressive Cavity Pump (PCP) dispensing technology. This innovative and revolutionary pump design allows HERO to offer the first truly low maintenance automatic colorant dispenser. In fact, we believe it offers the lowest cost of ownership available in the market today. The A110 Archimede™ is so simple to repair that an entire dispense circuit can be replaced without tools or special training in less than 15 minutes. In addition, the A110 Archimede™ further reduces yearly maintenance costs as it does not suffer calibration drift like other competing technologies.
Thanks to this technology's ability to reverse the flow of colorant through the pump, HERO has also solved the problem of colorant drying in the nozzle. This feature is referred to as pull back. At the end of each dispense, the pump reverses rotation, "pulling" back the colorant inside the nozzles. This minimizes contact of colorant with air.
The A110 Archimede™ dispenses each colorant sequentially and offers precision unmatched by its rivals. On average dispenses, the accuracy is within +/-1%. Yes, this unit is so precise it can be used to tint sample color testers!
ADVANTAGES
Unbeatable precision and productivity (better than a gear pump system)
Unmatched durability and low maintenance costs
Simple to repair – a complete dispense circuit can be replaced in less than 15 minutes without special tools or training
Drift free calibration – No need for yearly calibrations
Simple to use
Unbeatable quality/price ratio

Much improved durability and pump life compared to gear drive units

Sequential dispense – one channel (colorant) – max dispense rate of up to 10 ounces per minute!
PROBLEMS SOLVED
Eliminates high maintenance and service costs
Simplifies the dispensing of difficult products
Colorant drying in the nozzles will be a thing of the past

No remodeling required as this unit is designed to fit in the same footprint as a manual dispenser
ERGONOMICS & EASE OF USE
Low refill threshold is ideal for staff of any height
Space saving compact design
Available accessory kit for mounting PC and other peripherals saves counter space
*Specifications subject to change without notice
TECHNICAL FEATURES
Dispense system
Volumetric sequential
Number of circuits
Up to 16
Dispense technology
Progressive Cavity Pump (PCP)
Compatibility
Water-based or universal colorants
Canister size
2.1 quarts (2.0 liters)
Max flow rate
10 oz/min. (0.28 L/min.)
Average accuracy
+/-1% (colorant dependent)
Minimum dispense quantity
1/768 oz (colorant dependent)
Nozzle capping system
Fully automatic humidifier cap
Can handling
Manually positionable shelf
Footprint
W 28" x D 26" x H 45"
Shipping dimensions & weight
W 37" x D 38" x H 67" / 195 lbs
Required input power
110/220 VAC 50/60 Hz
Options
Computer, label printer, bar code reader and accessory kit to mount PC and accessories
*Specifications subject to change without notice